Massive Loss to Genealogists Everywhere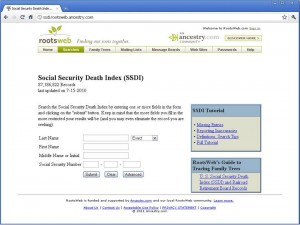 In my ongoing research of personal genealogy and family history, I can honestly say that no single record set had been more valuable to me than the Social Security Death Index (SSDI) database that was freely available on the RootsWeb website.  I attributed no less than 193 individual citations to this database, just in my own family tree.
While conducting such research during this winter break, I was shocked to see this message appear on RootsWeb:
Due to sensitivities around the information in this database, the Social Security Death Index collection is not available.
I was further shocked to learn that this database take down was initiated by the United States Senate.  I cannot avoid decrying censorship.  The SSDI has become a national treasure of historical information, and to even propose blocking its public use is a violation of our guaranteed freedoms.
Families Do Need Better Privacy Protections
One important problem may have triggered this scandal.  The SSDI was effectively making all social security accounts a public record shortly after anyone's death.  I have always felt intuitively that this encroaches the privacy of surviving family members.  Certainly, much time will pass before a person's final affairs are wrapped up, and their social security information might still be in use during that time.
When I wrote my own genealogy book last year, I went out of my way to address this problem.  Even though the book's circulation was strictly limited to my relatives, I felt that it was not my place to perpetuate the publication of recently used social security numbers.  As I said in 2010:
I have taken the extra precaution of including only those numbers first published more than ten years ago.
It is open to debate whether my book was ahead of its time, or the RootsWeb system was behind the times.  The now subscription-only SSDI web page says:
If the Social Security Number is not visible on the record index it is because Ancestry.com does not provide this number in the Social Security Death Index for any person that has passed away within the past 10 years.
Is this just a coincidence?  No.  Actually, it has been reasonably foreseeable that a social security number would remain in use for many years after its account holder had passed away.
Is it reasonable to block access to the past ten years of records?  Maybe.  The original purpose of the Death Master File was to prevent the illegitimate use of social security numbers.  I simply do not understand what has gone wrong with that original concept.
Is it reasonable for the Senate to completely block free access to that database?  No.  This is nearly equivalent to burning books.  I hate that this happened and I hope it is only a temporary overreaction to bad press and bad politics.