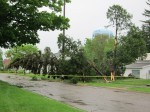 A strong tornado hit Michigan today, tracking from Battle Creek to the north-east. I was close enough that I needed to take shelter from this storm.
Several trees were snapped in half by the force of a strong gust front in Albion, Michigan. Here are the photos I took of a few broken trees for my report to the weather service.
I didn't have any damage myself, but on the radar it looked like a strong tornado tracked from Battle Creek up to Mason, and the south end of that hook echo packed some wind, I'd say 50 mph!
.
Parts of the downtown area of Albion appear to be blacked out this evening due to power line damage from falling trees.
Related Reading
Storm reports map and tables from 05/29/2011
100 mile-per-hour storm caused $25 million in damage