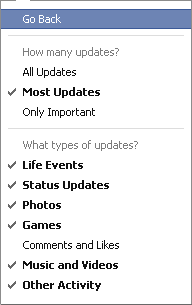 Facebook recently rolled out changes to its News Feed feature, making it controversial and difficult to use again.
When your friends click "Like" on an item posted by someone who is a stranger to you, that story is now added to your News Feed.
These "Like" stories now comprise the majority of News Feed items, flooding the home page with irrelevant images and branding.
The settings that were designed to remove these stories no longer work.
When I log in to Facebook now, I am bombarded by photographs posted by people I have never heard of in my life.  My friends are clicking the "Like" button on these photos, causing them to appear on my News Feed.
What this problem means for me is that even though my friends sometimes exercise good taste, we do not have the same taste.  The images in my News Feed now frequently contain profanity, political messages, corporate branding, and other unwanted or randomly useless information.
And it's not just me.  The News Feed became such an annoyance yesterday that I wrote about it on my Facebook profile, which quickly received replies from friends having the same problem.
In the past, unwanted posts could be permanently blocked by adjusting the feed settings.  Now Facebook has gone too far.  They have broken all of the settings listed under "What types of updates" to receive from friends.  Even though I have "Comments and Likes" turned off for many of my friends, I am still getting a flood of their unwanted activity updates.
I also tested the "Only Important" option and found that it does not prevent these unwanted News Feed items from appearing.
My report to Facebook about this problem was met with the usual automated reply, "While we aren't responding to every report, we may reach out to you for more information as we investigate this."
Update 8/12/2012
In total frustration with the Facebook News Feed, I have stopped reading it completely.  I came up with a new workaround:
Bookmark your own profile page instead of the Facebook front page, and then never visit the front page.
The profile page has all of the same chat and notification features as the front page, without the news feed.
Update 12/20/2012
Some of the news feed settings seem to be working today.  After four months of having an unusable front page on Facebook, the difference is noticeable.
I am cautiously optimistic that the desktop version of the news feed, combined with aggressive ad blocking software, is returning to usefulness.  The "games" option is still broken and does not hide games activity from the news feed.  However, it may be possible to block those apps other ways by using privacy settings.