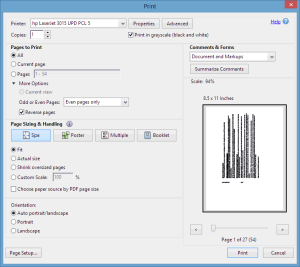 Among the many problems in Windows 8 is the poor driver support offered by Hewlett Packard.  The drivers are hard to find, do not install correctly if at all, and lack many features compared to older drivers.
HP dropped manual duplex printing support for Windows 8, which means it's now up to each application to add this functionality.
In Adobe Acrobat, this can be done with some care and attention to detail.
Step 1:  Load Paper Upside Down
When duplex printing manually, some types of laser printers give different results depending which side you print first.  If you print the "front" side first and then the "back" side, you might end up with curled paper.  To avoid or prevent this, you will have to flip the blank paper over and print the "back" side first.
Due to the way paper is manufactured, it always has a grain direction, a concave side, and a convex side.  Usually the grain is in the direction of the longest edge, and the concave side of the ream of paper faces the package seam.  This can be determined by standing the paper on its short edge and watching which way it tends to curve, or by simply experimenting with which side gives the best results.  If you normally print on the concave side of the paper, then that is what I mean by the "front" side.  Printers are normally designed to use the concave side as this prevents the document from going limp in your hand when you hold it from the edge.