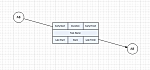 Visio 2010 is a great tool for designing PERT charts.  Since it lacks some of the shapes needed to easily add and connect nodes with other PERT items, I came up with a few tools to make it easier.
My step-by-step tutorial explains how to create nodes and connections that work seamlessly.  After completing these steps, you will have three new shapes to work with:
PERT Node, PERT Connector, and PERT Task.