Massive Loss to Genealogists Everywhere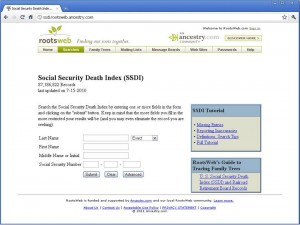 In my ongoing research of personal genealogy and family history, I can honestly say that no single record set had been more valuable to me than the Social Security Death Index (SSDI) database that was freely available on the RootsWeb website. I attributed no less than 193 individual citations to this database, just in my own family tree.
While conducting such research during this winter break, I was shocked to see this message appear on RootsWeb:
Due to sensitivities around the information in this database, the Social Security Death Index collection is not available.
I was further shocked to learn that this database take down was initiated by the United States Senate. I cannot avoid decrying censorship. The SSDI has become a national treasure of historical information, and to even propose blocking its public use is a violation of our guaranteed freedoms.