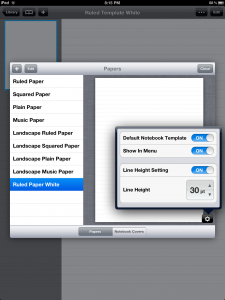 I'm playing with a note taking application for iPad called GoodNotes. It has a lot of potential to help replace notebooks for homework. It requires some customization because the default templates have a beige background. Beige is easier to look at on a bright computer screen, but it is impractical when printing. The built-in solution seems to be to export "notes only". However, I have mixed feelings about printing handwritten notes from lined paper that has no lines.
Here are my customized templates, based on the built-in options, with the background color removed for better printing.
iPad-Size Templates
Paper-Size Templates
When installing these, set margins by 132pt per inch.
Next Post: Regarding GoodNotes 4